Paving Process
Overview
The installation of a new driveway or parking lot can be a substantial financial investment, so you should expect the best quality from your contractor. Utilizing proper construction methods, a common driveway should last many years in Connecticut. Some contractors take shortcuts, use lesser materials, and simply low-ball bids just to get the job. Properly installed asphalt and good quality products are a must; your pavement can either be an investment or an ongoing expense if not done correctly.
New England Blacktop not only uses high quality materials, but also employs an experienced team that follows stringent processes to create the perfect driveway, parking lot or roadway.
There are several steps involved in the removal and replacing of a pavement structure, and each step is crucial to the long term success of the asphalt.  If any procedure during the installation process is done short of just what is required by industry standard practice, it will greatly decrease the durability and life expectancy of the driveway.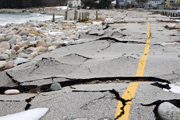 Step #1 - Preparation
The first step any property owner must do prior to the paving process beginning is to have their licensed contractor contact Call Before You Dig (CBYD). A licensed contractor can make this request. CBYD technicians will come to your property and properly mark off all utility lines including power, telephone, cable, gas, water, sewer, and other known utilities. The second step as the property owner is to mark off all things that may not be publically documented like sprinkler systems, invisible fence systems, alarm sensors, and any other installed plumbing or electrical systems.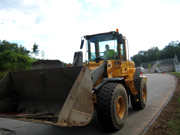 Step #2: Excavation
An asphalt structure is only as good as what's underneath it.  Paving on top of damaged asphalt or over soft ground will surely cause the new pavement to crack and fail.  It is in the preparation stage that the long life of your pavement is set.  As New England Blacktop states in all of our estimates, all unusable material will be dug out and removed from the job site.  In many cases, we need to dig deep if we are removing loam, stumps, clay, or other soft material.  Also, in most cases, paving over your existing full depth driveway is not a good idea as it doesn't allow us to correct sub base concerns.  If there is significant cracking, it will likely reflect upward into and through the new asphalt within a short time period.  Concrete should never be paved over with asphalt because all of the joints will show through.  New England Blacktop is well equipped with all of the appropriate excavation equipment, skid steers, and dump trucks necessary to haul away material from your home or site.
New England Blacktop does its part to be Green by recycling asphalt and materials it removes from your site. Asphalt is America's #1 recycled material.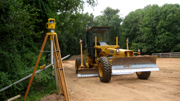 Step #3:  Base and Grading
The proper installation of the base of material beneath the asphalt provides the foundation for the overall structure.  First, we evaluate the base, and then we use an appropriate amount of crushed processed stone as a base. This product, most often spread by a skid steer, is engineered specifically to be laid beneath asphalt, compacts very well, and is set at the proper pitch to allow for sufficient water drainage.  With our specialized graders, we grade the base correctly which allows for correct paving to occur later.  When necessary, we will use a laser level or transit to ensure the correct pitch so that water is channeled in the most appropriate direction.  The base is then rolled with a vibratory roller to ensure compaction. This process is repeated every 2"-3" until the proper thickness is achieved.
Asphalt never fully hardens.  If your base is soft, unlevel or has holes/depressions, so will the finish of your new driveway, parking lot or roadway.  Building a solid sub-base is the most important part of any paving job, and New England Blacktop does it best every time!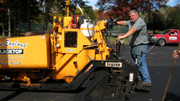 Step #4: Laying of Asphalt
Once the surface is properly prepared, New England Blacktop sends its fleet of dump trucks to the nearest asphalt mixing plant to purchase the freshly batched, hot pavement mix.  Having the proper trucking capacity allows us to remain operative and productive, and minimizes material cooling and down time.  In some cases, the asphalt is laid in two levels, or lifts for parking lots, and a single lift for driveways. New England Blacktop uses state-of-the-art and well maintained paving equipment in order to provide the highest quality finish.  Our paving equipment is purchased new and is traded in frequently to ensure the best possible service and pavement finish with little or no down time. Our equipment receives the highest level of continuous maintenance available.  Having the best equipment is further assurance that your new driveway, parking lot, or roadway installed by New England Blacktop will be the best it can be.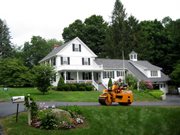 Step #5:  Compaction and Finish
A very important step in the paving of your driveway is the compacting process.  Without proper compaction, the asphalt structure will not hold together and endure season after season.  Upon the laying of the asphalt, as with the base material, the surface is rolled with a vibratory drum roller for a smooth, strong finish. Our edges are hand tamped to provide a 45° angle, providing the necessary strength to support vehicle weight. 
Once the process is completed by New England Blacktop, your installed driveway will be durable, attractive, and will improve your property's value.